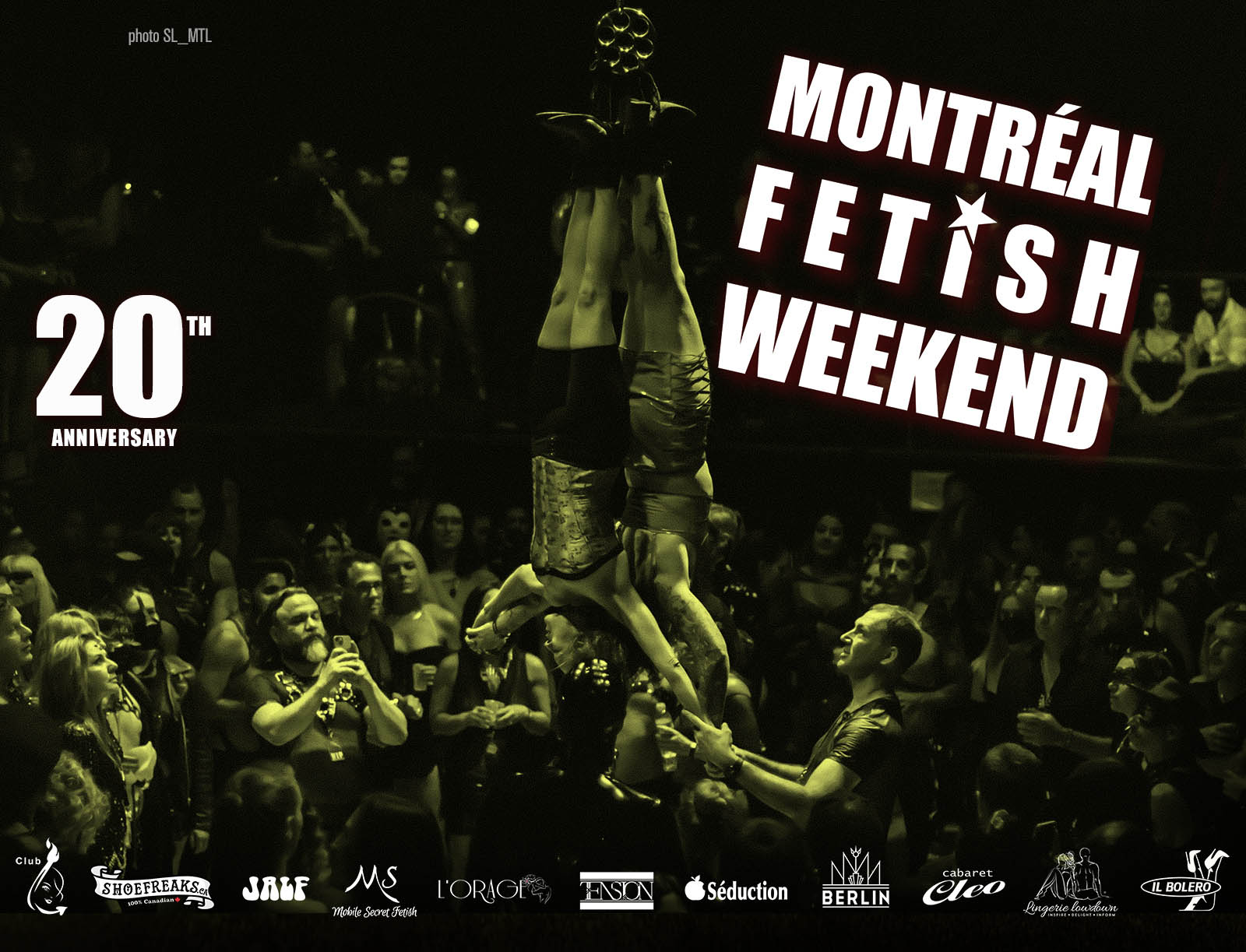 AUGUST 29TH – SEPTEMBER 2ND 2024

♦ 20TH ANNIVERSARY EDITION



CELEBRATING 20 YEARS OF INTERNATIONAL FETISH FRIENDSHIP, FUN AND FASHION
Together, let's celebrate the movers and shakers the fetish scene both local and international. Those who, year round, keep the alternative scene alive and well. From new attendees to veterans, we highlight the enthusiastic keepers of the fetish pride for an incredible journey into the kinkier side of Montreal!
Since the very beginning, our aim has been and remains to bring you the best event and our team dedicates time, effort and vision to create a unique inclusive experience with extra care to you, our loyal attendees. The Montreal Fetish Weekend offers plentiful social opportunities where longtime friendships are rekindled and new ones will be made!
Parties, workshops, shopping, dining, exploring our fabulous city (which in itself offers various more activities), photo walk, a fantasy ball, fashion, performances, outdoor fun, just to name a few!
UNLIKE ANYTHING ELSE IN THE WORLD
Celebrating fetish, fantasy, fun and friendship in the world's FETISH-FRIENDLIEST CITY, the Montreal Fetish Weekend is one of the largest international fetish gatherings. From latex to lingerie, leather, pvc, goth, lolita, pin-up, cross-dressing and cosplay; all alternative fashion is celebrated. YOU ARE THE STAR!
LIVE YOUR FETISH
As first time or repeat attendees you will feel at ease with our meet and greet cocktail offering social opportunities from the get-go. Sharing our passion lights up the moment making everyone truly special and unique. You will meet like-minded enthusiasts visiting from all over the world.
We are a DIVERSITY ALTERNATIVE LIFESTYLE COMMUNITY BASED EVENT and as such we welcome all genders, body types and orientation! We remain attentive to your needs and as such we always welcome your input!
A MEMORABLE EXPERIENCE AWAITS YOU

5 DAYS AND NIGHTS OF KINKY DELIGHTS
We are thriled to welcome everyone to this year's event. This is most assuredly the most ambitious schedule of events and activities we've ever prepared.
We've added quite a few partner events, we've also added the return of the in-hotel expo as well as a VIP dinner and cocktail on the Thursday night.
The Hotel Zero1 will feature a cornucopia of daytime happenings and multi-level after-parties.
Be sure to check-out the 5th terrace, hospitality suite, the ground floor media lounge, glassed in atrium cocktail/play/expo area and the basement ballroom for the workshops and fully equipped Mobile Secret Fetish Dungeon.
STAYING SAFE AND HEALTHY  ♦  
Please be aware that with big gatherings such as we just had we recommend taking a covid test just to be on the safe side. Stay well and healthy, we want you back in top shape for our 20th anniversary edition.
JUST ADDED  ♦  LATEX NEMESIS "MAKING AND REPAIRING LATEX" WORKSHOP
LATEX NEMESIS will be presenting a 2 hour class on making basic latex and repairing your latex Saturday September 2nd at 6pm.
IL BOLERO  ♦  OFFICIAL STORE OF THE MONTREAL FETISH WEEKEND
IL BOLERO is the Original Fetish Emporium in Montreal (since 1991) and a crossroads where different worlds meet: that of the fine lingerie, that of the design of made-to-measure clothes, and that of the naughty clothes and accessories specialized (for informed adults).
Visit them to purchase your Montreal Fetish Weekend tickets and passes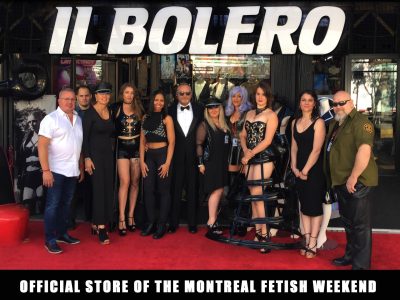 SÉDUCTION  ♦  20% OFF DISCOUNT IN STORE PURCHASE
SÉDUCTION is offering you a 20% discount on your in store purchases upon presentation of your Montreal Fetish Weekend pass or ticket (valid until September 3rd).
They have multiple stores around town including Polymorphe Latex and Noir HandMade at their St-Hubert street and Métropolitain flagship stores. Visit them to purchase your Montreal Fetish Weekend tickets and passes
SHOE FREAKS  ♦  20% OFF DISCOUNT CODE
SHOE FREAKS is offering you a 20% discount on your online purchases. Their selections of shoes and boots is quite limitless and stellar. Shoe Freaks is a proud sponsor of the Montreal Fetish Weekend. They will supply footwear to our featured artists DasKao and the Replikant Girls as well as our very own production assistant Goddess Kaleidos
FOODLAB  ♦  OFFICIAL TERRACE OF THE FETISH WEEKEND
FOODLAB 1201 St Laurent Blvd, Montreal H2X 1K4 / the kitchen and terrace open from 5 to 10pm
FOODLAB offers a 15% discount to all Montreal Fetish Weekend pass holders (VIP & Trio)  applicable at the rootop restaurant and ground floor café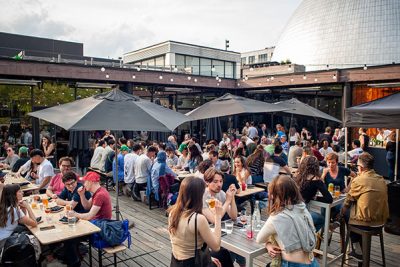 LINGERIE LOWDOWN  ♦  MEDIA PARTNER