FRIDAY & SATURDAY, September 1st and 2nd
EXPO KINK :: ARTS & FASHION FAIR
12 – 6pm
Hotels Gouverneur, 1415 St-Hubert street, 4th floor ballroom, Admission to the EXPO KINK and IL BOLERO LOUNGE is free!
The MONTREAL FETISH WEEKEND invites you to attend the EXPO KINK. A once-a-year fetish shopping experience where you can find some beautiful wear and accessories.
Check-out some play equipment, and connect with photographers as well as meet-up with the creative people of the fetish scene and enthusiasts as well as enjoy the comfort of the Il Bolero fetish lounge all within a relaxed and friendly ambiance. Open to everyone, no dress code!
VIKTORIA CREATIONS
https://www.viktoriacreations.com/
We offer unique, hand-crafted and cleverly designed toys and play furniture for the Kinksters amongst us, with a specialty on paddles and floggers.  Our primary focus is the sensations and emotions created by just the right toy !
PLAISIR-SECRET
https://www.facebook.com/plaisirsecretbdsm/
Plaisir-Secret, is the name of my studio, located in Otterburn Park near the Mont Saint-Hilaire, the heart of the apple region. This workshop is the heart of a crafts project based on the love of history, furniture and restoration. It is now a place where custom, hand-made BDSM play furniture will be crafted to your exact needs to the highest specifications and standards.
They are looking forward to meeting you at the Montreal Fetish Weekend and are the official supplier of this year's showcased play equipment!
EAST COAST ART WORKS
http://www.eastcoastartworks.com/
Located in Upstate NY (USA) East Coast Art Works offers Creativity. Endless Possibilities. Fun. Need discreet? Want flashy? Craving excitement? Let us know your furniture desires and we'll help them take shape. We make pieces to suit all kinds of needs from erotic to organizational. Our goal is to provide usable art in the form of functional furniture​.
NU2 CONCEPT
https://www.facebook.com/pg/Nu2Concept/
Our mission is to make you live an extraordinary experience, but also to make you appear in your best light. We therefore use several main components. First, the subdued lighting and the play of shade allow to reveal the body in subtlety. Thereafter, you will have the opportunity to experience the portraits or abstract poses which, in both cases, have been specially developed in order to put each body in value. The finishing done by the photographer makes it possible to bring the finishing touch to enhance all your photos.
MKL :: MISS KINKY LATEX
https://www.misskinkylatex.com/
Welcome to the world of MKL Latex Couture. Created from a real passion, MKL distinguished itself with the unique designs of its hoods and latex accessories. MKL was founded by two designers who want to create and offer high quality products with details that were never seen before. All our creations are done with great attention to details and are 100% handmade. We put all of our passion in our creations to ensure that you will wear a real work of art. We offer to our customers unique models and we can also create custom made designs imagined by you. This is the world of MKL Latex Couture.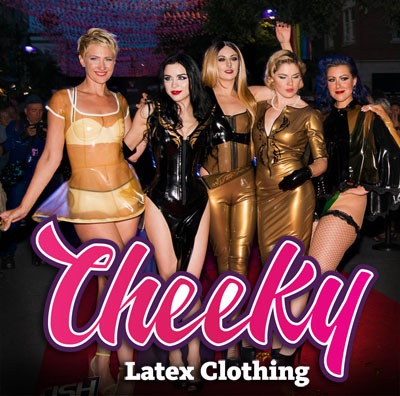 CHEEKY LATEX
A Cheeky woman is an empowered woman. She slips into an outfit and takes on an air of playfulness, be it cute and sassy or serious and domineering. She is an unapologetic temptress. She fearlessly wears her passion on the outside, shining brightly with her head held high. This is the Cheeky Latex vision.
STAR CREATIONS
Star Creations is a collective of like-minded, Montreal Designers. It is a place where talented individuals can showcase their creations and come together under one banner to give the world stylish, sturdy and functional fashion accessories.
Head of the deranged but gifted band of creators, Veronika Star started this adventure as a performance artist in the Fetish Scene. Traveling the world and meeting other artists along the way, she tries to bring functionality to all her creations. Her chosen materials to work with are Leather, Fur, Feathers, Bones and Gems.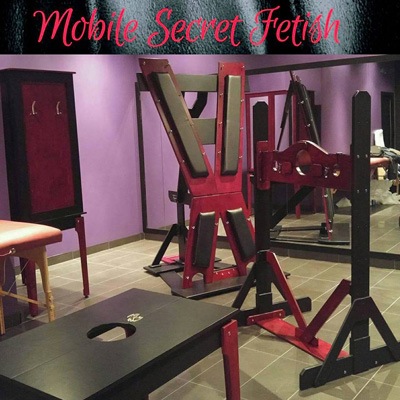 MOBILE SECRET FETISH
https://www.facebook.com/Mobile-Secret-Fetish-1718860718376448/
High quality play equipment finished to exacting standards. Mobile Secret is also the official sponsor of our in-hotel play area. Their varied play station will be accessible during our Friday and Saturday after-parties as well as during Sunday's all night long DUSK TILL DAWN Play Party.
ANNIE'S RUBBER FLOGGERS
Local hand-crafted rubber floggers and play toys