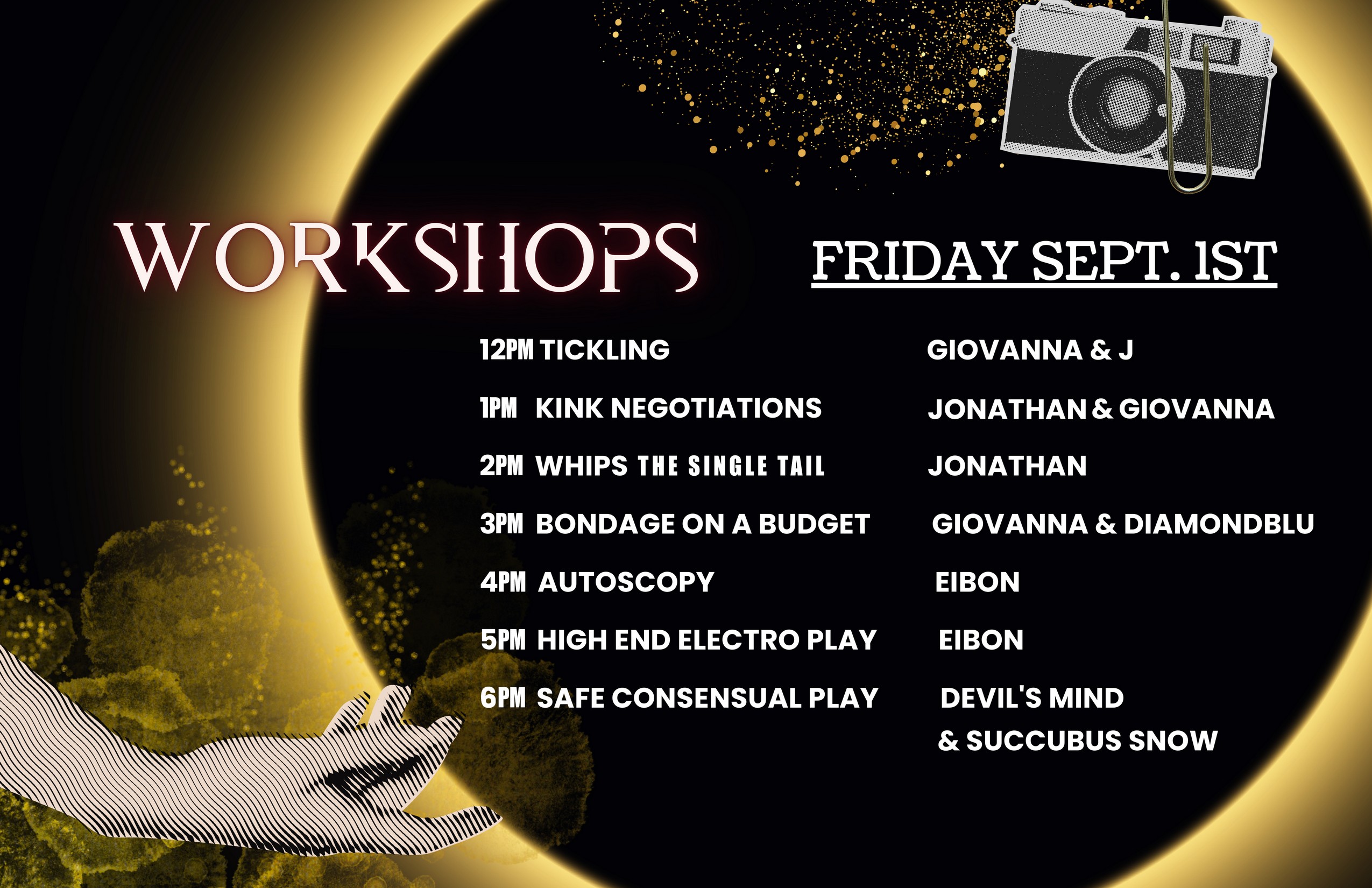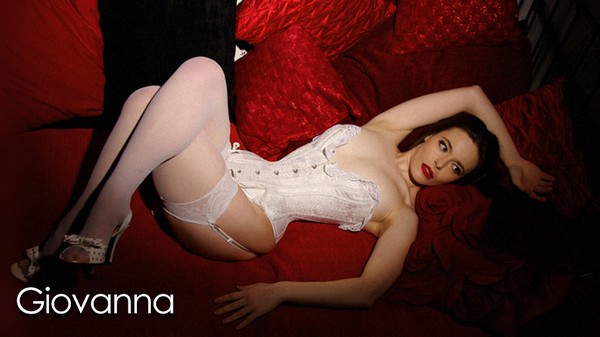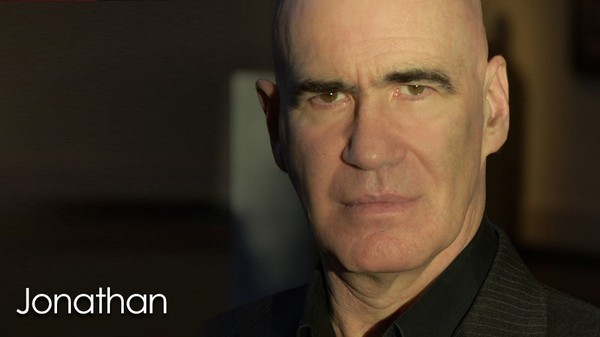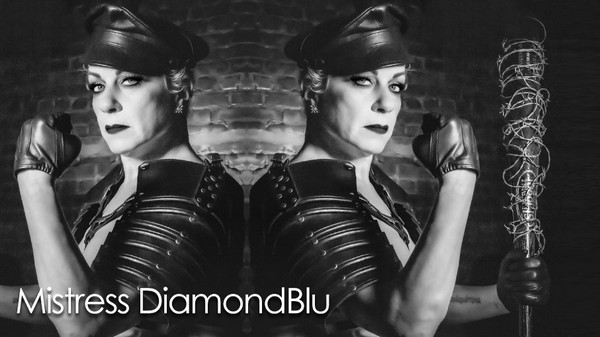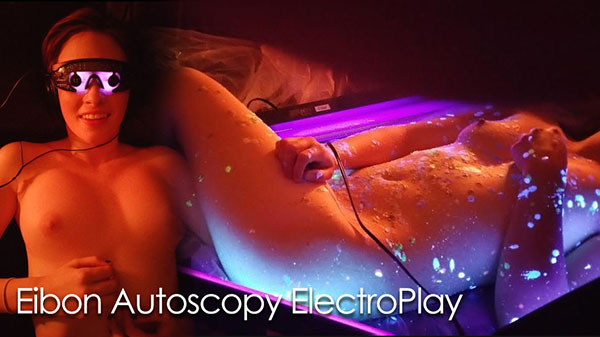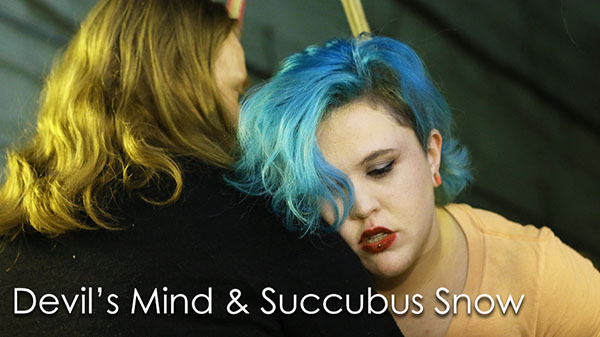 FRIDAY, September 1st
WORKSHOPS  ► 
12 – 6PM : HOTEL ZÉRO1
ADMISSION : VIP PASS (included) / $100 daily workshop access (available at the door) / $50 daily workshop access with the WEEKEND TRIO / capacity is limited
A series of fun and educational workshops in support of an ever growing community of alternate lifestyle promoting safe, sane consensual play, etiquette and spiritual enlightenment.
Featured educators :
12PM : GIOVANNA & J (USA) : TICKLING
The Art of Erotic Tickling' or, 'The Feather is Mightier Than The Bullwhip' is a class Gio and Jonathan have taught several times in the past in Canada, England, Jamaica, and the USA. A growing kink, tickling's often a hard limit for even the most dedicated pain slut.
This can be very interesting because it's so subtly devastating, especially when combined with bondage, and can be used to vary sensations in play to prolong activity without leaving the slightest mark. Used on a susceptible person, the feather in an educated hand is truly vicious! Laughter releases endorphins- AND it's a fantastic abs workout!
1PM : GIOVANNA & JONATHAN (USA) : KINK NEGOTIATIONS
(for straight Male Nerds— Persuading her to yield happily- and even stick around for more!)
A battered veteran of the Erotic Wars now married for over a decade and a half to a beautiful woman 27 years his junior, recovered idiot Jonathan will guide you through the incredible frustration and constant misunderstandings that must be overcome if you're ever going to frolic with someone who won't
charge you a fee beforehand- or
charge you with assault afterwards.
As a special bonus, the finale of this class will feature a selection of beautiful, kinky women willing to chat to all of you about what will work with them when it comes to deciding on a play partner- and far more importantly, what won't.
2PM : JONATHAN (USA) : WHIPS
Singletail Whips – 'Let's Get Cracking!' Jonathan has been a professional stagefight director in Britain, Canada, Europe and the USA since 1984 and has been training with singletails since 1995. Gio is a professional ballet dancer and started practicing with whips in 2005.
Together we'll be covering the basics of whipcracking. Please bring your own wide brimmed hat, eye protection, (sunglasses are fine) and your own singletails if you have them, but not floggers! Although we will touch on the use of whips in play and the psychological aspects of "creating a scene", this will mostly be a practical class. 
While more advanced students will be coached individually, the ultimate goal is to get everyone cracking!
3PM : GIOVANNA (USA) MISTRESS DIAMONDBLU (MONTREAL) : PRACTICAL BONDAGE ON A BUDGET
How to Explore Restraint Without Breaking the Bank
Have you always wanted to try bondage but found it too complicated? Too intimidating? Too expensive? If so, this is the class for you!
Mistress DiamondBlu and Goddess Giovanna will show you how to restrain your partner using common household objects and simple ties, along with an overview of necessary safety measures to ensure a successful scene.
You'll leave the class with instantly usable techniques along with a new and kinky appreciation of Home Depot!
4PM : EIBON (USA) : VIDEO PLAY MIRROR WITH GOGGLES (interactive)
"Autoscopy" is associated with looking back at one's own body from a vantage point or position outside of the physical body.
Cases of it have been attributed to everything from delirium and psychosis to astral projection.   Autoscopy is also associated with seeing one's double or a duplicate of one's own body.
Using video glasses and cameras we can simulate autoscopic experiences within BDSM scenes, adding another dimension to play.   Everything from candle wax to terror play becomes more intense while the bottom is "outside their body" witnessing it.
In 2011 "Watch Yourself: BDSM with Video Glasses" was featured in SECRET Magazine #36. The article may be viewed here
"Autoscopy with the use of video glasses as demonstrated at Eibon's class is the most innovative contribution to BDSM play since the invention of the whip." – Uncle Abdul, author of "Juice: Electricity for Pleasure and Pain"
"Seeing the equipment in person made me realize just how mind fucking an experience this could be.   This is an amazing insight on your part Eibon, into a completely new realm of exploration." – Libertine
"I'm looking forward to trying them again.   The possibilities seem endless with your set up!   Simply genius." – participant (name withheld by request)
5PM : EIBON (USA) : HIGH END ELECTRO PLAY
This class takes electrical play to the next level by combining light, sound, and electricity to create an immersive experience.   Please note this is an advanced class – E-stim 101 handouts will be available and safety will be very briefly discussed, but this is the "deep end" of e-stim.
An ErosTek 312 e-stim unit is used in conjunction with a MindPlace KASINA light/sound machine.   Sync it to music, and results like this are what you will achieve:
"Eibon's electrical play is fucking amazing.   Lights, massage, current inside my pussy, and all of it set to music.   He said it would take me to another orbit… um… hell yeah!   I need to visit Boise more :)" – Clancy56
A volunteer in Hollywood commented:
"I just wanted to let you know how much I enjoyed meeting you and how happy I am that I responded to your post!   What an incredible experience it was… more and better than I could possibly have imagined.   You were wonderful, and I don't know how to say a proper thank you.   I feel so lucky."
Tenderly_Twisted
A volunteer in Montreal said:
"Thanks to @eibon for the amazing experience with e-stim and mind goggles at Fetish Weekend! Here I can be seen getting off during the workshop, having volunteered as the guinea pig for the demonstration. Total bliss!!"
Vicky Devika, Montreal Fetish Weekend
Presented in english and then in french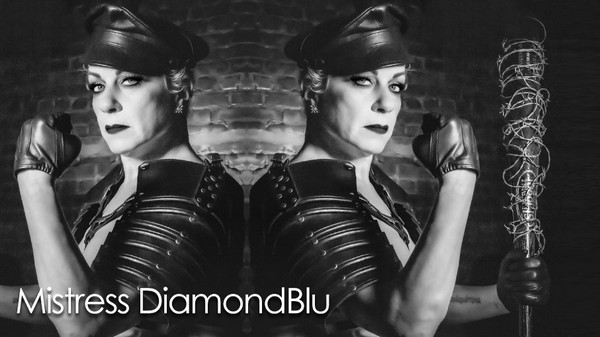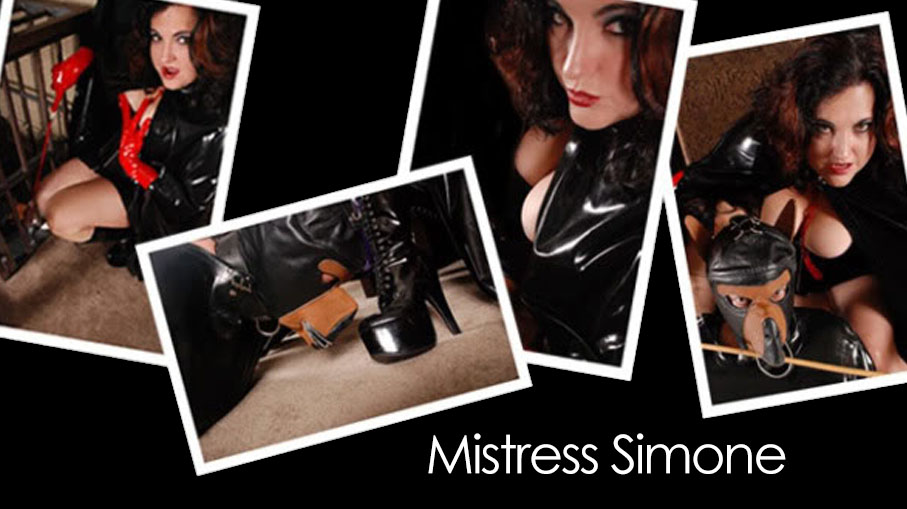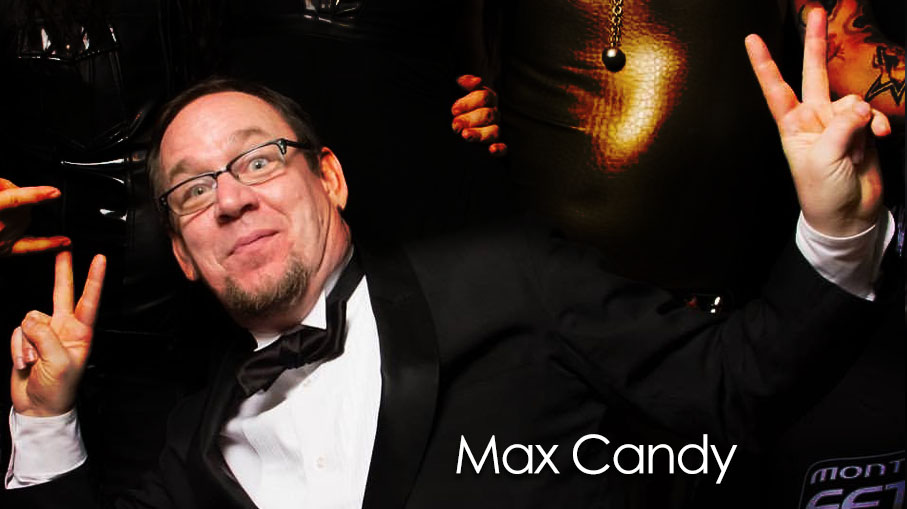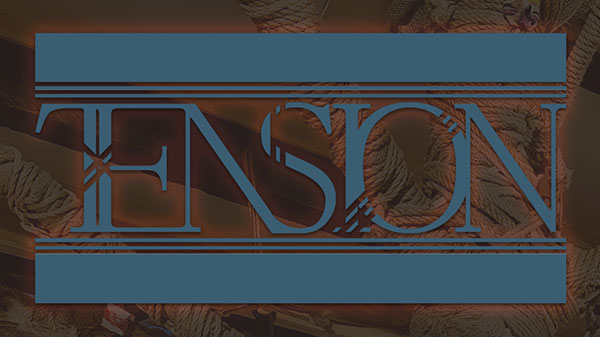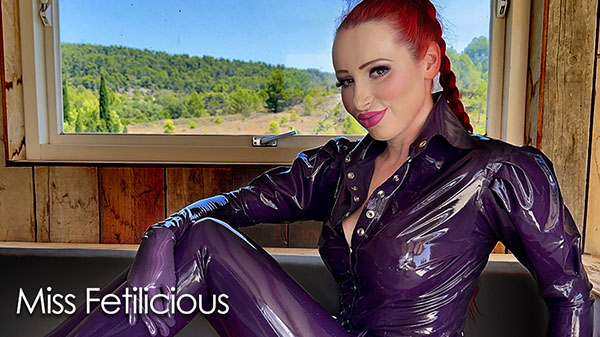 SATURDAY, September 2nd
WORKSHOPS  ► STORYTELLERS
12 – 6PM : HOTEL ZÉRO1
ADMISSION : VIP PASS (included) / $100 daily workshop access (available at the door) / $50 daily workshop access with the WEEKEND TRIO / capacity is limited
Featured educators :
12PM :  MISTRESS DIAMONDBLU (MONTREAL) : KINK IMPROV 101
1PM : ZOË PAGE (England) : MODELLING
2PM : MISTRESS SIMONE WORTHINGTON (USA) : MY LIFE AS A DOMME
Oh the stories she can tell! With 30 years of Professional and lifestyle Domination under her belt, ChicagoMistress has plenty of stories to tell. From how kink was prior to the internet to the weirdest fetish she ever engaged in – these stories will make you laugh, cry and go "EEWWW"
Come spend an enjoyable afternoon chatting with Mistress Simone. Questions are definitely encouraged!
3PM : MAX CANDY (Montreal) : TOUCH KINK : behind the scenes
4PM : WILL TENSION (Montreal) : SHIBARI
5PM : MISS FETILICIOUS (Belgium) : LOVE OF LATEX
Join world acclaimed latex heavy rubber model Miss Fetilicious for a fun, informative latex story telling workshop filled with anecdotes, twists and turns in the life of a latex model.
The Montreal Fetish Weekend was Miss Fetilicious' first international fetish event and it a true pleasure to feature her this year!
Miss Fetilicious will distribute little gifts of her own making to participants of her workshop (quantity limited)
6PM : LATEX NEMESIS (USA) : MAKING & REPAIRING LATEX
Latex Nemesis presents beginer latex crafting and repairs class. World reknowned latex masks and fashion expert Nemy will be presenting a 2 hour class on making basic latex and repairing your latex.
There will be a short introduction then the basics and then an open Q&A period will be encouraged for the duration of the class.
Bring your repairs and Nemy will fix them in the class and teach everyone how to do a repair. (*) Please note all items must be washed so that they are not very luby.